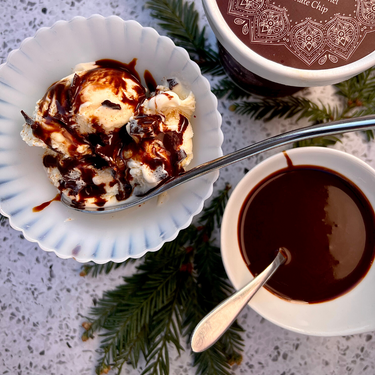 DECADENT CHOCOLATE DATE FUDGE SAUCE
We partnered with Pooja Bavishi, the owner of Malai Ice Cream, NYC, to highlight our Organic Date Syrup & Guittard Chocolate 72% Sante Coconut Sugar Chocolate Chips by creating an imaginative holiday recipe. Pooja's ambrosial fudge recipe marries two ancient and revered flavor profiles - dates and chocolate. She keeps it breezy so that the two flavors have center stage and we are 100% behind that. With only 5 ingredients, this recipe is genius in it's simplicity and we can't wait to try this in our kitchens.
Ingredients
1 cup almond milk (any brand)
½ cup Just Date syrup
¼ cup granulated sugar
1 tsp Kosher salt
1 cup Guittard Santé 72% Coconut Sugar Sweetened Baking Chips
In a small sauce pot, add the milk, date syrup, sugar and salt, and whisk to combine
Heat medium–stirring occasionally–until the mixture comes to a boil.
Once the milk mixture is at a boil, add in the chocolate.
Continue whisking until the sauce begins to thicken (about 5 minutes)
Let cool slightly before pouring over your favorite ice cream
created by Pooja Bavishi, owner of Malai Ice Cream, NYC