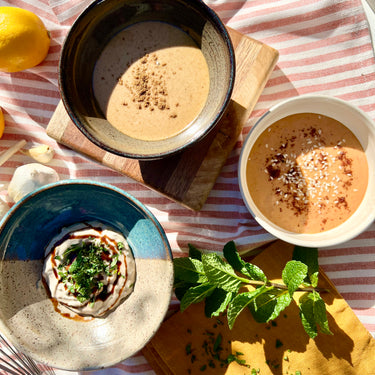 3 Low-Sugar Chicken Wing Dipping Sauces
Game day celebrations are a time to come together and enjoy delicious food. These three unexpected low-sugar chicken wing dips - Sweet Red Pepper Dip, Yogurt Pomegranate Dip, and Curried Honey Mustard Dip - offer delicious and healthy options on your game day celebration. These dips are made with healthy flavorful ingredients that your guests will love. Satisfy your cravings without sacrificing taste!
Ingredients
Sweet Red Pepper Dip

1 cup sour cream or vegan sour cream or coconut yogurt
1/4 cup Just Date Syrup
2 tablespoons sesame seeds, toasted
1 tsp fresh grated ginger
2 tbsp + 2 tsp mild harissa
Yogurt Pomegranate Dip

1 cup Greek yogurt or coconut yogurt
¼ cup finely chopped fresh mint leaves
2 clove garlic, smashed and minced
2 tbsp Just Pomegranate Molasses
Curried Honey Mustard Dip

1 cup mayonnaise or vegannaise
1/3 cup Just Date Syrup
¼ cup prepared mustard + 2 tsp
2 tsp garam masala powder
1 tablespoon lemon juice
For each dip option, mix all ingredients together and serve immediately.