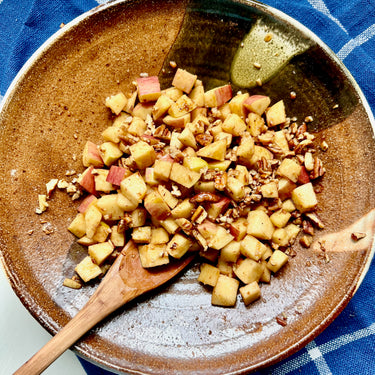 Apple and Pecan Haroseth
This traditional Ashkenazi haroseth is a delightful component of the Passover Seder and features diced apples, toasted pecans, a dash of cinnamon, and champagne vinegar to symbolize the mortar used by the Israelites during their enslavement in Egypt. Using sweeter apples will reduce the amount of date syrup required, while sour apples can be used if balanced with other ingredients. The haroseth can be prepared a day in advance and stored in the refrigerator, but be sure to mix it thoroughly before serving to recombine any liquids that may have separated. You can also sub pears for apples or use a mixture and walnuts for pecans. 
Ingredients
1 cup pecan halves
2 large or 3 small firm, crisp sweet apples (1 pound), such as Fuji or Gala, peeled, cored and diced in ¼-inch pieces
4 tbsp champagne vinegar
1 tbsp Just Date Syrup, plus more to taste
1/2 tsp ground cinnamon, plus more to taste
1/4 tsp ground nutmeg
Heat oven to 325 degrees. Spread pecans on a rimmed baking sheet and toast in the oven, stirring once or twice, until fragrant and golden-brown at the edges, about 10 minutes. Transfer baking sheet to a wire rack to cool.
Finely chop the nuts and place in a large bowl. Add remaining ingredients and toss to coat. Let sit for at least 30 minutes before serving. Taste and add more date syrup and cinnamon, if you'd like.