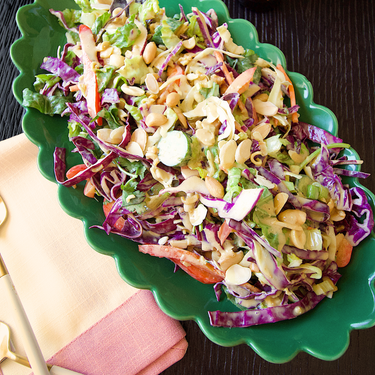 Crunchy & Colorful Salad with Peanut Sauce // No Refined Sugar
We're obsessing over this fresh, delicious take on that crunchy ramen salad from childhood. Submitted to us from Nicole Davis @colorfulabode, it's bursting with fresh ingredients and a comforting creamy peanut dressing full of all the good things we love.
Ingredients
1/2 red cabbage, shredded
2 cups of green cabbage, shredded
one head romaine lettuce, chopped
Persian cucumbers (5 small), chopped
one red bell pepper, chopped
green onion to taste
1/4 cup cilantro
1 package dry Ramen noodles, roughly broken
1/2 cup of almond slices
1/2 cup of peanuts chopped
Peanut Sauce Dressing
1/2 cup smooth peanut butter
1/3 cup water
1/3 cup light olive oil from Graza
2 tablespoons rice vinegar
1 tablespoon low sodium soy sauce
2 tablespoons date syrup from @enjoyjustdate
1 tablespoon lime juice
1 teaspoon of chopped garlic
2 sprigs of green onion
1/4 tsp EACH salt, pepper
Combine all dressing ingredients in a blender or a bowl and mix well. Toss together all salad ingredients and dressing and enjoy!