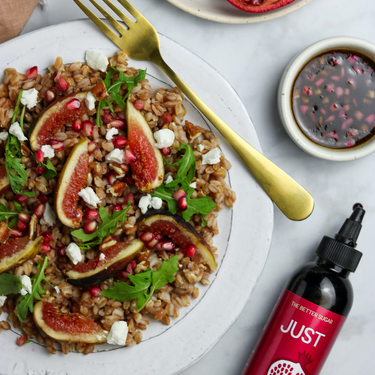 Balsamic Pomegranate Vinaigrette
Delicious on a grain bowl or in a salad, this vinaigrette is bright and satisfying, with balsamic, mustard, shallots and our tart Pomegranate Molasses. Gluten-free, vegan, and fast and simple to make, it'll definitely become a go-to salad or macro bowl dressing.
Ingredients
¼ cup balsamic vinegar
½ cup olive oil
2 tablespoons Just Pomegranate Molasses
3 tablespoons minced shallot
2 teaspoons dijon mustard
Salt and pepper, to taste


In a small mixing bowl, whisk together the balsamic, mustard, pomegranate molasses,
salt, pepper and minced shallot.
Add the oil and whisk to combine.
Created and photographed by Hannah Zimmerman @bitesizedstudio