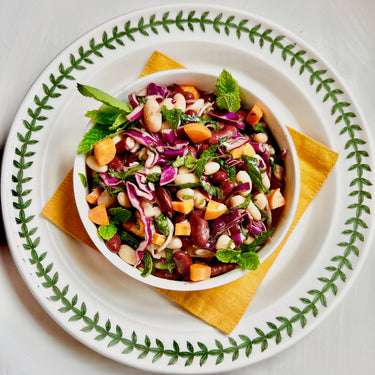 Bean Salad w/ Mint and Green Garlic
This fresh and zesty picnic or barbecue favorite is a summer time treat. It travels well, it's fairly customizable depending on what you have on hand and it'll have people asking for the recipe. The green garlic lends a special spiciness that is hard to pin down but is tempered by the fresh summery aromatics of the mint. Enjoy as a side dish or on crackers.
Ingredients
Dressing
1/3 cup champagne vinegar
1/4 cup Just Pomegranate Syrup
3 tablespoons extra virgin olive oil
1 1/2 teaspoons salt or more to taste
1/4 teaspoon cracked black pepper or more to taste
1 green garlic bulb finely chopped (sub shallots if you can't find these)
Salad
1 can of kidney beans, rinsed
1 can of white beans, rinsed
1 large carrot chopped
1 cup thinly sliced and then chopped red cabbage
¼ cup chiffonade fresh mint
¼ cup roughly chopped flat leafed parsley
Place the green garlic and champagne vinegar in a bowl and set aside as you prepare and assemble the other ingredients. Mix all salad ingredients in a bowl and add the remaining dressing ingredients to the garlic and vinegar mixture. Pour the dressing over the salad. Mix several times over the course of an hour or so, bringing the dressing up to the top. Finally, store in the fridge overnight so all the flavors can meld. Before serving, bring it to room temperature and garnish with more fresh mint.