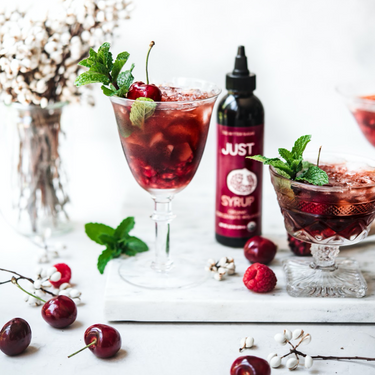 Berry Pomegranate Daiquiri
This complex, rich cocktail is brightened with the addition of lime juice, fresh raspberries and pomegranate molasses. A juicy berry daiquiri, naturally sweetened, is the perfect summer cocktail to serve at a picnic. Fresh, bright, healthy, and easy, with local and ripe produce. Love this recipe by Beth and Lexi? Get 20 naturally sweetened cocktail recipes by America's best bartenders in our affordable, inspiring new ebook.
Ingredients
1 1/2 oz white rum

1/2 oz Cointreau

1/2 oz Just Pomegranate Molasses

1/2 oz freshly squeezed lime juice

3 oz tart cherry juice

6-8 fresh raspberries, muddled

Sprig of mint

Fresh cherry
Muddle raspberries in a cocktail glass and add ice to the glass.

Fill a cocktail shaker half full of ice.

Add rum, Cointreau, Just Pomegranate Syrup, lime juice, and tart cherry juice.

Shake for a count of 15-20 and pour into the cocktail glass.

Garnish with a mint sprig and a cherry.