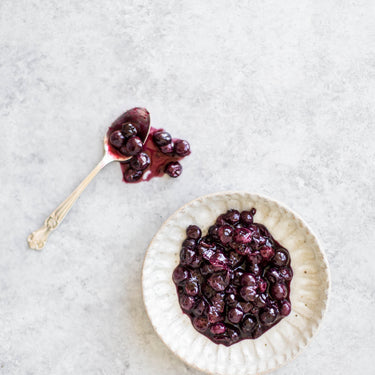 Blueberry Lemon Compote
Blueberry lemon compote is the recipe that you'll be making all Summer long.  It's just three simple ingredients and the perfect compliment to all of your favorite Summer bites. Many compote recipes call for tons of added sugar, but peak of season summer fruit is so delicious on it's own, we think it's best to let the natural ingredients shine here. This compote is perfectly sweet from juicy blueberries and Just Date Syrup, with a touch of brightness from lemon zest.
Here's the plan: Step one: throw ingredients into a baking dish. Step two: roast slightly. Step three: use in all the things.  Swirl it into yogurt, onto your favorite vanilla ice cream, on savory crostini with burrata and flaky salt, or even by the spoonful, because it's just that good. Swap out blueberries for any ripe seasonal summer fruit you can get your hands on - cherries, stone fruits, strawberries, or raspberries would all work deliciously in this recipe as well.
Ingredients
2 Teaspoons of Just Date Syrup




2 and 1/2 Cups organic blueberries




Zest of 1/2 lemon
Preheat oven to 350* F. Add Just Date Syrup, blueberries, and the zest of 1/2 lemon to an 8x8 baking pan, and gently mix to combine.

Roast for 20 minutes, until the blueberries start to burst and have a jammy consistency.

Stir, cool, then place in airtight container set aside. The blueberry compote can be made ahead and stored in an airtight container in the fridge until you're ready to enjoy.