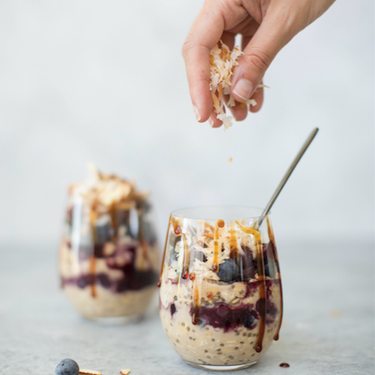 Blueberry Muffin Overnight Oats
Blueberry Muffin Overnight Oats are making all of your breakfast dreams come true. Everyone needs a breakfast recipe that's simple to throw together. Mornings are busy, and having an easy breakfast to prepare means you can hit that snooze button one more time. This recipe for overnight oats tastes just like a blueberry muffin, but it's refined sugar free, and full of nutrient dense ingredients, like blueberries, chia seeds, and oats! This recipe would be the perfect addition to your Father's Day menu, or really any breakfast menu!
Ingredients
3 Cups Old Fashioned Organic Oats

3 Cups Unsweetened milk of your choice, plant based or regular milk works

2 Tablespoons Just Date Syrup, divided (1 T + 1 teaspoon for Overnight Oats, reserve the rest)

2 Tablespoons Chia Seeds

1 Teaspoon Almond Extract

2 Cups Unsweetened Toasted Shredded Coconut

3 1/2 Cup Organic Blueberries - divided (2 1/2 C with 2 t JDS to Roast for Compote and reserve Fresh to assemble)

Zest of Half a Lemon

1/2 Cup Toasted Slivered Almonds
For Overnight Oats:
In Container with fitted lid place oats, milk, 1 Tablespoon plus 1 teaspoon Just Date Syrup, chia seeds, and almond extract. Stir to thoroughly combine and cover with fitted lid. Place in refrigerator and let sit overnight.
For Blueberry Compote:
Preheat oven to 350* F. Add blueberries, Just Date Syrup, and the zest of 1/2 lemon to an 8x8 baking pan, and gently mix to combine.
Roast for 20 minutes, until the blueberries start to burst and have a jammy consistency.
Stir, cool, then place in airtight container set aside. The blueberry compote can be made ahead and stored in an airtight container in the fridge until you're ready to assemble, or it can be served warm on the oats when they're ready.
For Next Day Assembling:
Spoon overnight oats into four parfait glass, then layer fresh blueberries, roasted blueberry compote, and repeat until glasses are full. Top with toasted toasted coconut, toasted almonds, and generous drizzles of Just Date Syrup."
This recipe was crafted for us by Bebe Black Carminito of Champagne and Cookies. Bebe is a San Francisco based recipe developer, food stylist, and lover of champagne and cookies.