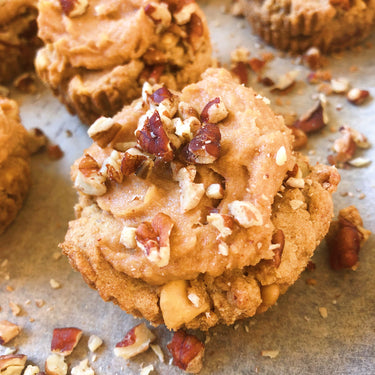 Brown Butter Date Pecan Cookie Cups
This ultimate treat made with our Organic Date Sugar was created from Danielle of danielle_christy_kitchen! "Date sugar is a must for healthy baking and a staple in my pantry. It's full of antioxidants and lower glycemic than all other sugars. One bowl is all you need and these cookies will become a new staple in your baking fun." We're obsessed.  
Ingredients
1 stick Butter, browned
1/2 cup Date sugar
1 egg
3/4 cup GF Flour or regular AP
1/4 tsp baking soda
1/2 teaspoon salt
1 tsp vanilla extract
1/2 pecans, chopped and toasted ( plus more of topping)
Date Sugar Frosting
1/2 cup cream Cheese , softened
1/3 cup date sugar
Heat oven to 350 F and grease a muffin tin with butter or oil (or liners)
In a bowl mix butter, sugar and egg until combined. Add flour and baking soda and mix. Then fold in chopped pecans. Divide into muffin cups and bake for 8-10 minutes. Allow to cool and top with frosting.
Frosting - Whip together cream cheese and date sugar until smooth.
Store cookies in the fridge in a sealed container.