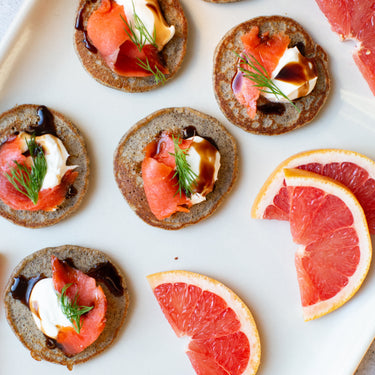 Ingredients
Blinis
Toppings (customize to your liking!)
Creme Fraiche or vegan creamy alternative
Smoked Salmon
Fresh Dill Sprigs
Ruby Red Grapefruit
Whisk first 5 ingredients in medium bowl.
Place milk and butter in small saucepan. Stir over low heat until butter melts and thermometer registers 110°F (if mixture gets too warm, cool until temperature returns to 110°F). You can eyeball this! Pour warm milk mixture into flour mixture and whisk until smooth. Cover with plastic wrap and let stand in warm area until doubled in volume, 1 to 1 1/2 hours, less time required if using baking powder - simply look for some increase in volume and don't overthink it!
Whisk buckwheat batter to deflate it; then whisk in eggs. Do ahead
Preheat your oven to 200°F. Heat a large skillet over medium heat, and brush lightly with butter or olive oil. Working in batches, pour 2 Tbsp batter for each blini onto the skillet or griddle. Cook until bubbles form on top and begin to pop, about 1-2 min. Turn blinis; cook until golden brown on bottom, another 1-1.5 minutes.
If you'd like to keep them warm as you prepare the rest, you can transfer to a baking sheet, tent with foil and keep in a warm oven.
Arrange warm blinis on platter. Spoon 1 tsp crème fraîche atop each, followed bye smoked salmon, a dill sprig, and a squeeze of Just Pomegranate Molasses. Serve with slices of grapefruit and your choice of brunch cocktail - we went with grapefruit bellinis!