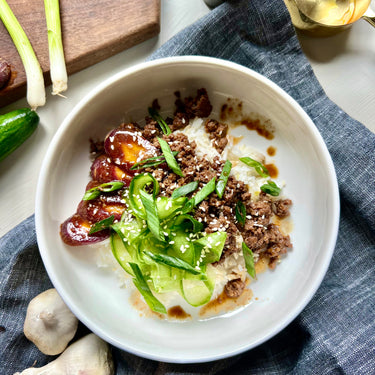 Korean-Inspired Bulgogi Bowls
Savor the sweet umami of bulgogi with a crunch of pickled cucumbers and carrots, drizzled in a tantalizing sauce, topped with sesame seeds and green onion. This is a quick and healthy weeknight dinner or lunch option, is gluten-free and refined-sugar free and can be made with any meat including vegan crumbles!
Ingredients
1 lb meat of choice or raw meat-free crumbles
1 small cucumber
1 large carrot
1 cup white rice
1 cup water
2 green onions chopped - separate the greens from whites
2-3 tbsp sesame seeds
2 tbsp rice vinegar
Sesame oil as needed

Bulgogi sauce:
¼ cup soy sauce or tamari
¼ cup pear juice
2 tbsp Just Date Syrup
1 tsp grated ginger
1 large clove garlic minced
1 tbsp sesame oil
Cook the rice in an instant pot (or prepare rice according to stove-top directions). Slice the cucumber in ribbons and quick pickle them. Slice the carrots in thin ovals and cook for 2 minutes in oil and set aside.
Combine sauce ingredients in a pot on medium heat for until just starting to bubble and remove from heat. In a skillet, heat some sesame oil and add the whites of onion and saute for 1 minute until fragrant. Add meat or meatless crumbles and break it up, cooking until browned 4-6 minutes. Add the vinegar and stir for 30 seconds. Stir in the bulgogi sauce and bring to a simmer and then immediately turn off heat. Season if needed with salt and pepper.
Fluff rice and put in a bowl. Add the crumbles, carrots and cucumbers and sprinkle sesame seeds and scallion greens on top. Enjoy!