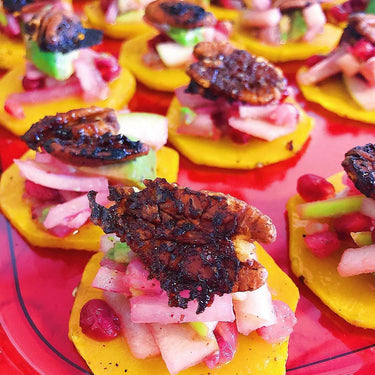 Butternut Squash Bites with Sumac Date Glazed Pecans
We love this stunning appetizer that Danielle from Savor The Kitchen whipped up! It is as beautiful as it is delicious. The thinly sliced squash make bright little plates for a zingy pomegranate salsa and finally a savory crunchy date-glazed pecan on top. 
"This dish is healthy, easy to make and a crowd pleaser! The components can be made ahead and are perfect for any celebration."
Ingredients
Glazed Pecans
1 1/2 tbsp coconut oil
2 tbsp Just Pomegranate Molasses
1 tbsp coconut sugar or Just Date Syrup
1/2 tsp ground sumac
1/2 tsp cayenne pepper
1/2 tsp fine sea salt
2 cups raw pecan nuts (or your favorite raw nuts)
Pomegranate Salsa
1/2 red onion, chopped
3/4 cup pomegranate arils
1 avocado, chopped
1/4 cup fresh cilantro, loosely packed and chopped
1/4 cup fresh mint, loosely packed and chopped
zest from 1/2 lemon
salt to taste
1 butternut squash - choose one with a long neck
cracked black pepper
Stir together melted coconut oil, pomegranate molasses, just date syrup, sumac, cayenne, and salt, in a medium bowl until a smooth paste forms. Fold in nuts and stir until evenly coated. Spread in a single layer on prepared baking sheet. Bake in preheated oven until nuts are a light golden brown, 20-22 minutes. Remove baking sheet from oven and let cool completely - about 1 hour. Store nuts in an airtight container at room temperature for up to 1 week.
Peel the squash up to the bulb and thinly slice the neck into discs. Rub the squash discs with a little oil and lay them out on a parchment lined baking sheet, lightly crack black pepper over them and roast in an oven of 375 until golden around the edges. The time will depend on how thinly you slice them. Keep and eye on them so they don't burn!
While the squash is roasting, prepare the salsa. In a bowl, combine all ingredients and salt to taste.
To assemble, simply place each squash disc on a plate, arrange a bit of salsa on top and place one nut on top of that. Serve and enjoy!