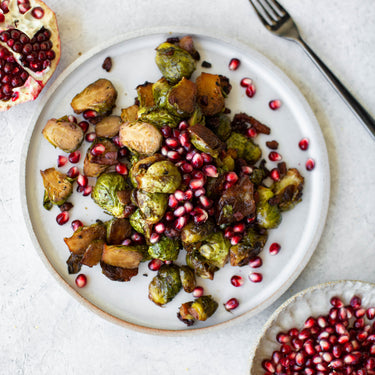 Caramelized Brussels Sprouts with Pancetta, Dates, + Pomegranates
Caramelized brussels sprouts with pancetta, dates, and pomegranates is our idea of a perfect Thanksgiving dish. Or our perfect dish for any night of the week, for that matter! It's full of Fall flavors, and strikes a delicious balance of smokey, savory, sweet, and utterly addicting.
Ingredients
2 ounces diced pancetta

2 lbs brussels sprouts - halved lengthwise

1 tsp of smoked hot paprika

⅓ cup JDS

⅓ cup olive oil

6 pitted and chopped medjool dates

Salt

Pomegranate arils
Preheat oven to 400 degrees F.

In a cast iron pan, slowly render pancetta until slightly browned - don't want to brown all the way because you'll finish cooking it in the oven later.

Remove pancetta from pan and set aside. To the same pan, add halved brussels, hot paprika, JDS, and olive oil, and cook for several mins, until brussels have a slight char on one side.

Add the cooked pancetta and chopped dates into the cast iron pan and fold into mixture to evenly combine.

Roast all in the oven for about 12-15 minutes, until charred and golden brown.
Plate onto a serving platter and top with pomegranate arils for a bright and slightly acidic garnish.