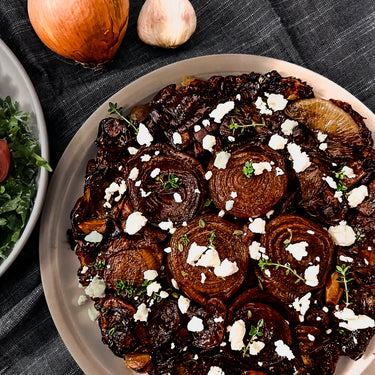 Caramelized Onion Tarte Tatin
Want to pretend you're living in a cozy French cottage for an evening? Our suggestion is to put on an Edith Piaf playlist and make this utterly rich caramelized onion Tarte Tatin. The original Tarte Tatin, invented by the Tatin sisters for their hotel guests, was made with apples. It's known as a classic french dessert and is made with all sorts of fruit. However, we reimagined this as a savory dish with deeply caramelized yellow onions, whole garlic cloves, and buttery mushrooms. It can be served as a main dish with a salad or roasted vegetables, as a side for a whole roast chicken or as an appetizer to impress your guests. It's a heavenly melt-in-your-mouth experience that you must try for yourself. 
Ingredients
For the shortcrust pastry
1 cup all-purpose flour or GF 1:1 flour
Pinch salt
4 tablespoons cold unsalted butter, cubed
2 to 3 tablespoons ice water
1 tablespoon thyme dried or fresh
For the tarte tatin
8 smallish yellow onions
8-10 cloves of garlic, whole
1 ½ cups of sliced mushrooms
2 tbsp butter
1 drizzle olive oil
2 tbsp date syrup
1 tbsp pomegranate syrup
1 tbsp balsamic vinegar
2 tablespoons water
1 pinch of salt
Fresh goat cheese or feta
Fresh thyme
Begin by peeling the onions and halving them. This will result in a beautiful circular pattern after baking. Alternatively, you can slice the onions into thick pieces if you prefer.
In a pan over medium heat, melt butter along with a drizzle of olive oil. Place the onions in the pan and pour in the date syrups and balsamic vinegar, followed by the water. Allow the onions to simmer on medium-low heat for 30-40 minutes, turning the onions over halfway through cooking.
To prepare the shortcrust pastry, mix together the flour, salt, butter, water, and dried thyme. Knead the dough briefly and form it into a ball. Set it aside until needed.
Arrange the onion halves in the bottom of a greased tart dish, cut side down, and pour the caramel mixture on top. Roll out the shortcrust pastry on a lightly floured surface with a rolling pin to form a circle as large as your tart dish. Place the pastry dough on top of the onions.
Bake the tart for 30-45 minutes in a preheated oven at 350 or until the crust is slightly browned and the onions are bubbling.
Place on a rack to cool for 10 minutes. The tart should start to loosen on the sides. Use a knife to gently loosen the edges of the pie crust by running it along the tart pan. Next, place a large serving plate over tart pan and flip the tart in one swift motion. Remove the tart pan to reveal the tart.
Sprinkle crumbled fresh goat cheese over the top of the tart and add a few sprigs of thyme for garnish.