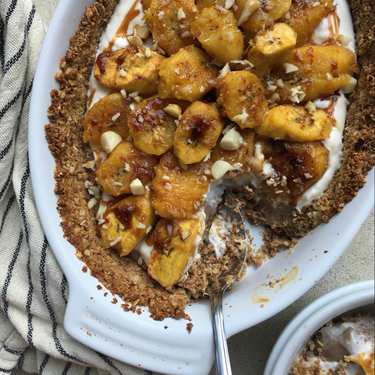 Caramelized Plantain Pudding
This cozy warm gooey plantain pudding has caramelized plantains, a gluten-free, vegan and refined sugar free oat and date crust with fall spices, a delicious Mooala banana milk filling and a caramel-like topping. It's an easy to make, kid-friendly dessert, and easy to devour. Created by Michal Sierens 
Ingredients
Crust:
1 cup rolled oats
1/2 cup almond flour
4-5 pitted medjool dates
1 tbsp Just Date Syrup3 tbsp cashew butter
1/4 cup macadamia nuts
1 tsp ground ginger
1/4 tsp salt

Pudding:
2 1/2 cups banana milk (I used Mooala)
1 tsp vanilla
1/2 tsp agar agar
3 tbsp tapioca starch

Topping:
5.3-oz almond milk yogurt, coconut whipped cream, or other nondairy whipped topping
2-3 ripe plantains
1/4 tsp cinnamon (optional)
Just Date syrup
Begin by preparing the crust. Add all ingredients to a food processor and process until a "dough" forms, stopping to scrape down sides as needed. You'll know it's ready when the mixture sticks together when pressed between your fingers. Pour the mixture into a pie dish (or other oven-safe dish) and firmly press into the bottom and up the sides until you achieve a flat, even layer. Bake for 15 minutes on 350°F. Remove from oven and let cool.

To make the pudding, add 2 cups of banana milk to a medium saucepan and bring to a boil. Add the vanilla, agar agar, and tapioca starch to the remaining 1/2 cup of banana milk and whisk until the tapioca starch is dissolved. Then add this mixture to the saucepan as well. Once you've reached a boil, reduce the heat to a simmer and stir almost continually for 6-9 minutes until the mixture has thickened. Remove from heat and let cool to room temperature.

To prepare the plantains, peel 2-3 ripe (black spotty) plantains and slice on the bias (about 1/2 to 1" thick). Place the slices cut-side down in an even layer in a nonstick skillet. Turn the heat on to medium-high. When the first side begins to turn dark golden (after 5 minutes or so), deglaze the pan with a splash of water and cover with a lid. This will help cook the plantains through. Once they release from the pan, flip them and cook the other side for a few more minutes or until golden and caramelized. Sprinkle with cinnamon if desired.

To assemble, pour the cooled pudding into the cooled crust. Refrigerate for at least 4 hours. Before serving, top with a layer of yogurt/nondairy whipped cream and the caramelized plantains. Drizzle with extra Just Date Syrup.