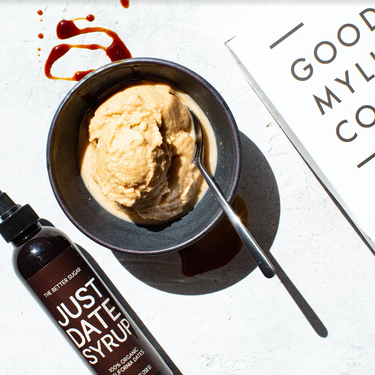 Chai Oat Mylk Soft Serve
This creamy spiced chai soft serve is a no churn ice cream you'll love all fall and winter. Naturally sweetened with frozen banana and Just Date Syrup, it's vegan, gluten-free, and a healthy ice cream treat, pie topping, or add protein for a breakfast treat using Good Mylk.
Ingredients
1 large frozen banana
3 tbsp Super Oat Mylk concentrate, thawed (or any thawed Goodmylk concentrate)
1 tsp Chai Masala (chai spice blend)
Add all ingredients to a high power blender. Blend until you get a thick, spoonable mixture with a soft-serve like consistency. Add a teeny bit more thawed concentrate if you need liquid for your blender to run, just 1 tbsp at a time. You want this to be thick!
Drizzle with more date syrup if you please (don't you!?), some optional crunchy toppings, and enjoy!