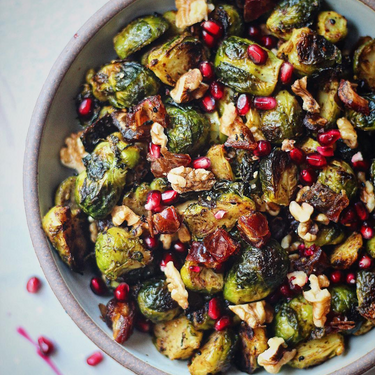 Charred Brussel Sprouts with Dates & Walnuts
This is one of our favorite brussels recipes, because of both its deliciousness and its ease! This is cooking at its best - a dish that can come together in minutes but wow any guests with explosions of flavor and a perfect blend of ingredients. We have Amisha @thejamlab to thank for this beautiful creation. It was one of the first recipes we saw her create with our Just Date Syrup, and luckily, it hasn't been the last. We truly look forward to seeing her work her chef-y magic with our product!
Ingredients
1 1/2 pounds of Brussels sprouts cut into half
2 tsp of zataar
1 tsp smoked paprika
1 tsp is red chili flakes
1 tsp is Far East Blend from @spanishtin (may replace with 1/2 tsp ground cumin, 1/4 tsp ground coriander, 1/4 tsp ground turmeric, and a pinch of cinnamon)
1 tbsp of @justdatesyrup
2 tbsp olive oil
Salt and pepper to taste
3/4 cup chopped dates
3/4 cup toasted chopped walnuts
1/2 cup pom arils
Preheat oven to 400 degrees.
In a small sheet pan, toss all ingredients together except dates, walnuts and pom arils.
Lay the Brussels sprouts face down.
Put it in the oven for 30 min, shake them around half way through. They should be charred at 30 minutes.
Put them in a large bowl, toss the dates, walnuts and pom arils into the mixture!