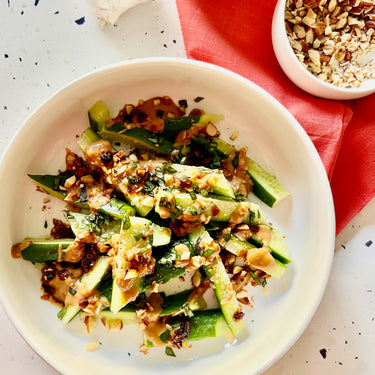 Chili Crisp & Peanut Cucumber Salad
We wish we invented this mouthwatering creation, but alas we did not. We adapted this recipe from Sue Li's Cucumber Salad Recipe recently published in the New York Times. As soon as we saw that her version had granulated sugar, we knew we had to try it with our date sugar. It was a raging success. It's crunchy, creamy and a little fiery. To make this into a full meal, use half the sauce over 3 sliced cucumbers and toss cold cooked ramen noodles in the remaining sauce. Serve the dressed cucumbers over the noodles. (Serves 2-3 people)
Ingredients
6 Persian cucumbers, cut lengthways into spears and then sliced into 2 inch pieces
Kosher salt
1/4 cup salted roasted peanuts or almonds
1/4 cup cilantro or basil leaves
1 tsp red pepper flakes
3 tbsp natural peanut butter
2 tbsp soy sauce or tamari
2 tbsp rice vinegar
1 tsp Organic Date Sugar
1 small garlic clove, grated
Chili Crisp, such as Fly By Jing, or chili oil
Toss the cucumber spears with 1/2 tsp kosher salt in a colander and leave to drain.
In a bowl, combine the peanut butter, soy sauce (or tamari), rice vinegar, garlic and date sugar. Thin with water as needed. Set aside. Chop either the peanuts or almonds, the herbs and chili flakes together and set aside.
Coat the cucumbers with the dressing. Transfer to a shallow bowl and sprinkle the nut and herb mixture and chili oil or chili crisp to taste. Serve immediately.
To make this a full meal, use only 3 cucumbers and toss with half the dressing. Boil ramen noodles and rinse well with cold water. Drain well and toss with remaining dressing. Top with the cucumbers and sprinkle with the nut and herb mixture. Garnish with chili crisp or chili oil as desired.
Adapted from a recipe by Sue Li, from New York Times Cooking, Sunday July 16, 2023