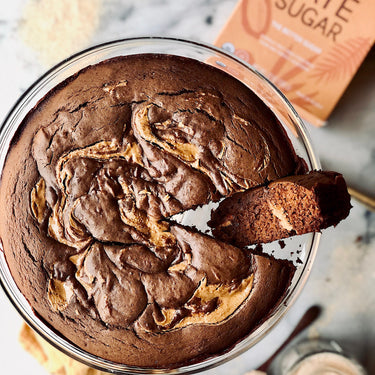 Chocolate & Almond Butter Swirl Cake
A gift to us from pastry chef Bebe Carminito, @champagneandcookies !
"I love this cake and I think one of my favorite food pairings hands down, is nut butter and chocolate. This cake can be made with any natural nut butter of your choice and here I chose Almond Butter sans the sugar to keep this refined sugar free. This can be served with a little whipped cream, ice cream and makes a delicious dessert or snack. It bakes really quick, about 26 minutes, but be sure to check with a toothpick or cake tester to gauge doneness because every oven is different. I hope you love this cake as much as I do. This 9" round serves about 9 and be sure to keep wrapped in an airtight container in the refrigerator, just bring to room temp before serving."
- Bebe
Ingredients
1 cup all purpose flour
1/4 tsp baking powder
1 tsp baking soda
1/4 cup Dutch processed cocoa powder
3/4 tsp fine sea salt
1/2 cup + 1 tbsp unsalted European style butter at room temperature
1 1/4 cup Just Date Sugar

3 Eggs Room Temperature
1 1/4 tsp almond extract (added to milk)
1 cup whole milk room temperature
1/2 cup Almond or Peanut Butter of your choice (I used Justin's no sugar added almond butter)
Preheat oven to 350. Grease and line a 9" springform round with butter or bakers spray with parchment. In medium bowl sift your dries - flour, baking powder, baking soda, cocoa powder & salt then set aside.
In the bowl of a stand mixer with a paddle attachment, cream butter and JDS Sugar till fluffy about 3 minutes on low speed till it starts coming together after about 1 minute (past the risk of flying sugar) then advance to medium speed the last 2 minutes. Scrape down the sides of bowl.
In another bowl whisk together eggs, almond extract with milk then add to butter & sugar mixture alternating with dries starting and ending with dries till homogeneous and thoroughly mixed in 4 additions, (don't over mix) about 2 minutes. Scrape down sides again gathering any stray ingredients remaining in and around bowl and be sure to check the bottom of the bowl where bits can accumulate. You want to make sure everything is incorporated into the batter. Spoon into prepped cake pan and smooth with an offset spatula. Top with almond butter one tablespoon at a time. Take a skewer, butter knife or implement to swirl the almond butter through the batter. Tap down pan to release any air bubbles. Bake in center of oven for about 26-27 minutes or until a clean toothpick test is achieved and cake has pulled away from sides of pan. Cool on wire rack completely before removing from pan and peel off parchment before slicing, a total of about 45 minutes.
Bebe Carminito for Just Date