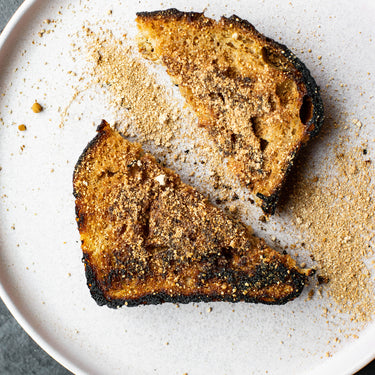 Cinnamon Date Sugar Toast
Cinnamon Date Sugar Toast (Refined Sugar-Free, GF & V optional)
Raise your hand if Cinnamon Toast Crunch was your fave cereal growing up! Here, we have a grown-up toast version for you without refined sugar, a hit of fiber, on naturally low-glycemic real sourdough toast. This toast is deeply satisfying and nostalgic. 
Ingredients
1 tbsp butter or vegan butter (Miyoko's)
1 thick slice sourdough (or your favorite GF alternative)
1 tsp cinnamon
3 tsp Just Date Sugar
Put 1 tbsp of your favorite butter on a medium heat cast-iron skillet, and put your piece of sliced bread on it as soon as the butter melts. Break another tbsp of butter into a few pieces and place on top of bread as the bottom side of the bread crisps. Flip the bread when the bottom is toasted to your liking (we like the edges just crisp). Remove when both sides are buttery and toasted.
Combine 1 tsp cinnamon and 3 tsp date sugar in a small bowl, and sprinkle liberally all over both sides of the toast while it's still hot.