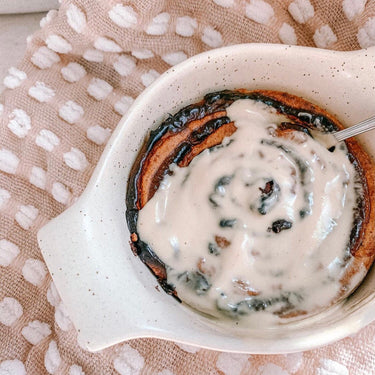 Ingredients
1/3 cup plant based pancake mix, we love Birch Benders
1 Tbsp ground flax seed
1 scoop vanilla protein powder of choice
2 tsp ceylon cinnamon, divided
3/4 cup water
1 Tbsp almond or other nut butter (peanut will impart a strong peanut taste!)
1 Tbsp @Justdatesyrup
Glaze of choice - we love coconut butter with a pinch of Just Date Syrup
Mix together the pancake mix, flax, protein, water, and 1 tsp of cinnamon.
Pour into a greased, small oven safe dish and smooth the top
Mix together the almond butter, Just Date syrup, and remaining tsp of cinnamon separately in a piping tube or a ziploc with a tiny corner cut off with a scissor.
Pipe onto the pancake batter in swirling or concentric circles (like a cinnamon bun's circles!)
Air fry or bake at 350 for 20-22 minutes
Remove from oven and top with a glaze of choice!