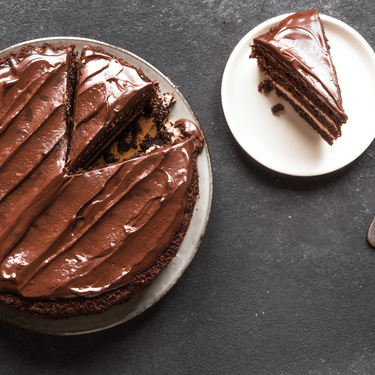 Classic Chocolate Cake
Here's a reliable and straightforward Classic Chocolate Cake recipe from Janani at Skillet to Plate. It's not overly dense but wonderfully moist, airy, and tender, with impeccable cake layers, all generously frosted with a velvety chocolate buttercream. Chocolate cake holds a special place in my household as it brings a comforting and deeply satisfying tradition, like a warm hug. Homemade is always the best. This one is worth the effort. 
Ingredients
Chocolate cake
1/2 cup Just date dark chocolate chips
1/2 cup unsalted butter, at room temperature
2 cups cake flour
2 cups date sugar
1/2 cup Dutch process cocoa powder
1 tsp espresso powder
1/4. tsp kosher salt
2 tsp baking powder
1/4 tsp baking soda
3 large eggs, at room temperature
1 tbsp good-quality pure vanilla extract
1/4 cup plain Greek yogurt, at room temperature
1/2 cup olive oil
1 cup (240 ml) hot water
Frosting
1/2 cup cocoa powder
1 cup butter or vegan butter like Miyokos (we prefer salted, but unsalted also works), at room temperature
2 ½ cups Just Date Sugar
1 teaspoon vanilla extract
3-4 tablespoons milk of choice (we like cashew milk)



Prepare for baking by preheating the oven to 350°F, positioning the rack in the middle. Grease three 8-inch cake pans with nonstick cooking spray and line the bottoms with parchment paper.
Begin by melting the chocolate and adding the butter. In a large microwave-safe bowl, place the chocolate and microwave it at medium power for 60 to 90 seconds, stirring every 20 to 30 seconds until the chocolate is completely melted. Add the softened butter to the melted chocolate, stirring until it's fully combined. Set this mixture aside to cool.
Now, let's mix the ingredients. In a medium bowl, whisk together the flour, sugar, cocoa powder, espresso powder, salt, baking powder, and baking soda. In a separate small bowl or glass measuring cup, combine the eggs, vanilla, yogurt, and oil. Beat this mixture with a fork and set it aside.
Using a whisk, add the dry ingredients to the chocolate mixture, ensuring a thorough mix. Next, incorporate the wet ingredients into the batter and blend until everything is well combined, with no visible flour streaks. Finally, pour in the hot water and stir until the batter appears smooth.
Divide the batter evenly among the prepared cake pans, giving each pan a gentle tap to eliminate any air bubbles. Place the pans on the middle oven rack and bake for 20 to 30 minutes or until a cake skewer or toothpick inserted into the center comes out clean.
Once done, take the cakes out of the oven and allow them to sit in the pans for 1 minute before gently inverting them onto cooling racks. Allow the cakes to cool completely before frosting.
For the buttercream, beat the butter for 2 mins. Then add the other ingredients listed under buttercream and beat for 1 to 2 mins until fluffy.