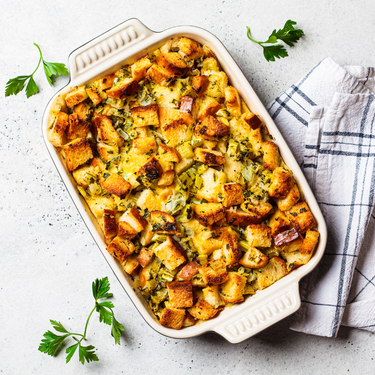 Cornbread Stuffing // Refined Sugar Free, Gluten Free
Inspired by Martha Rose Shulman's NYT recipe, our adaptation brings a unique twist to the traditional stuffing game. Starting with a homemade date-sweetened cornbread that strikes the perfect balance between slightly sweet and savory, this stuffing is a celebration of robust flavors that will have your guests coming back for seconds (and maybe even thirds). This recipe is your ticket to a Thanksgiving feast that's as comforting as it is delicious.
Ingredients
Cornbread


dry ingredients
1 cup sifted white all-purpose flour
3/4 cup Bob's Red Mill medium grind cornmeal
1/2 cup Bob's Red Mill dark rye flour (can replace with whole wheat flour or GF 1:1 flour)
1 3/4 tsp sea salt or kosher salt
heaping 1/4 cup Just Date Sugar
1/2 tsp baking soda
3/4 tbsp baking powder
wet ingredients
scant 1 cup buttermilk
3/4 cup full fat greek yogurt
1 large egg
2 cups fresh corn kernels (frozen works if you can't find fresh)

Stuffing
2 tbsp extra virgin olive oil, or 1 tablespoon each olive oil and unsalted butter
1 large onion, finely chopped
Salt to taste
4 stalks celery, cut in small dice
4 garlic cloves, minced
2 tsp rubbed sage, or 2 tablespoons chopped fresh sage
1 tbsp fresh thyme leaves or 1½ teaspoons dried thyme
½ cup finely chopped flat-leaf parsley
Freshly ground pepper
A double batch of cornbread (see above), crumbled you can do this in a food processor fitted with the steel blade
½ cup milk, or as necessary, for moistening
4 tbsp unsalted butter if baking separately
Preheat oven to 375. Butter a 9x9 inch square pan for a single batch or two 9x9 for double batch
Add the dry ingredients all together in a large bowl and toss well until evenly distributed. In a separate bowl, whisk the wet ingredients together. If using frozen corn, let corn come to room temperature before mixing. Combine the dry and wet ingredients together with a wooden spoon, mixing evenly.
After the skillet has been in the oven for 10-12 minutes, remove. Lower temperature of oven to 350. Swirl the pan so the butter coats the entire skillet, including the sides. Pour batter into the skillet. Place in oven for 30-35 minutes, or until cake tester comes out clean. Do not overcook - a little under is better than a little over. The top of the cornbread should be lightly browned, and the edges dark brown and crisp. Allow it to cool in pan. You can make this several days ahead and make the stuffing a day ahead of your meal.

Stuffing

In a sizable, sturdy, nonstick skillet, heat olive oil (or a mix of oil and butter) over medium heat. Introduce the onion and cook, stirring regularly, until it begins to soften, approximately three minutes. Add ½ teaspoon of salt and the celery, continuing to cook for a few more minutes until the onion reaches a tender consistency. Introduce the garlic and stir for 30 seconds to a minute, allowing the fragrance to bloom. Transfer the mixture to a spacious bowl and add the remaining ingredients, ensuring a thorough combination. Taste and adjust salt accordingly. If desired, moisten the mixture with milk to achieve the desired consistency.
For the next step, either stuff the turkey cavity or transfer the mixture to a well-buttered or oiled 2-quart baking dish. Dot the top with butter, cover with aluminum foil, and heat in a 325-degree oven for 30 minutes until thoroughly warmed.