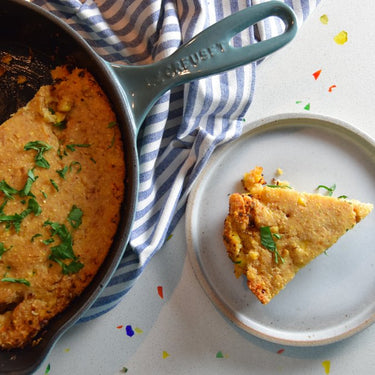 Crackling Spice Cornbread
I've been working on this one for awhile. In this recipe, I wanted to emulate the creamy spoonbread my aunt made us every Thanksgiving, without dumping a can of creamed corn into a bowl of processed cornmeal mix. Alas, I've finally achieved cornbread heaven: a yummy, creamy interior made so with buttermilk and greek yogurt. a crunchy, crackly exterior made so with brown butter. and most importantly, aleppo pepper, fennel seed, and cumin seed baked into that crispy crust as a little spicy surprise. Never fear - this cornbread is not fiery, and will not destroy the palate of your Thanksgiving guests. Hopefully, this adds just the right mellow heat, along with some interesting flavors from fennel and cumin seed to complement that big brown bird. 
Luckily, this yummy cornbread is not time consuming - 20 minutes or less of active time, with a baking time of 30-40 minutes. A perfectly quick Thanksgiving side dish!
Ingredients
4 tbsp unsalted butter
1/2 tbsp aleppo pepper (or 1 tbsp if you like some heat)
2 tsp fennel seed
2 tsp cumin seed
Optional: Drizzle of Just Date Syrup
dry ingredients
1 cup sifted white all-purpose flour
3/4 cup Bob's Red Mill medium grind cornmeal
1/2 cup Bob's Red Mill dark rye flour (can replace with whole wheat flour)
1 3/4 tsp sea salt or kosher salt
heaping 1/4 cup Just Date Sugar
1/2 tsp baking soda
3/4 tbsp baking powder
wet ingredients
scant 1 cup buttermilk
3/4 cup full fat greek yogurt
1 large egg
2 cups fresh corn kernels (frozen works if you can't find fresh)
Preheat oven to 375. Place cast-iron skillet in the oven with 4 tablespoons of butter.
Add the dry ingredients all together in a large bowl and toss well until evenly distributed. In a separate bowl, whisk the wet ingredients together. If using frozen corn, let corn come to room temperature before mixing. Combine the dry and wet ingredients together with a wooden spoon, mixing evenly.
After the skillet has been in the oven for 10-12 minutes, remove. Lower temperature of oven to 350. Swirl the pan so the butter coats the entire skillet, including the sides. Sprinkle aleppo pepper, cumin seeds, and fennel seeds evenly over the pan. Pour batter into the skillet. Place in oven for 30-35 minutes, or until cake tester comes out clean. Do not overcook - a little under is better than a little over. The top of the cornbread should be lightly browned, and the edges dark brown and crisp.
If you'd like, glaze the top with a little bit of Just Date Syrup. I didn't do that...but in writing this now, wish I had!
Serves 8-10 as a side. Active time 15-20 minutes, before baking.