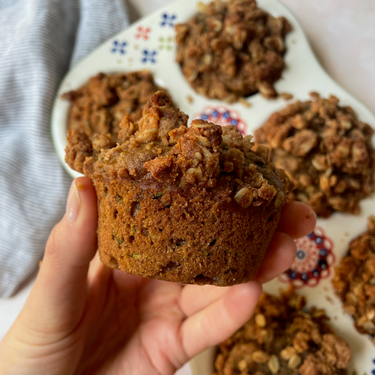 Crumble-Topped Zucchini Muffins
Clare at @clarelangan created these scrumptious zucchini muffins that are as surprisingly indulgent tasting as they are healthy. She says, "In my Crumble-Topped Zucchini Muffins, date sugar-sweetened crumble adds a textural topping to a tender, spiced zucchini muffin base. I promise, you can't taste the zucchini! Perfect with tea or coffee, or tucked into a lunchbox." These will be on rotation in our kitchen. 
Ingredients
Streusel-Topping
1/4 cup whole wheat pastry flour
3 tablespoons date sugar
3 tablespoons unsalted butter, melted and cooled
2 tablespoons rolled oats
1/4 teaspoon ground cinnamon
⅛ teaspoon grated nutmeg
Pinch fine sea salt
Muffins:
Dry ingredients:
1 cup whole wheat pastry flour
1/2 teaspoon baking powder
1/4 teaspoon ground cinnamon
1/4 teaspoon baking soda
⅛ teaspoon freshly grated nutmeg
Pinch fine sea salt
Wet ingredients:
1/2 cup plus 1 tablespoon date sugar
1/3 cup olive oil
2 tablespoons milk, any type
1 large egg
1 teaspoon vanilla extract
1 heaping packed cup finely shredded zucchini (about 200 g), about 1 medium zucchini
1/2 cup chopped, toasted walnuts (optional)
Spray 6 standard-size muffin cups with nonstick spray, or use paper liners.
For the Streusel: In a small bowl, mix all ingredients with a fork or your hands until crumbly. Freeze while you prepare the muffin batter.
For the Muffins: In a large bowl, whisk flour, baking powder, cinnamon, baking soda, nutmeg and salt.
In another large bowl, whisk date sugar, oil, milk, egg, vanilla and shredded zucchini. Add wet ingredients to dry ingredients. Use a rubber spatula to fold ingredients together until no streaks of flour remain. Do not overmix. Fold in walnuts, if using.
Divide batter between muffin cups. Sprinkle with streusel topping. Bake at 350F for 35-40 minutes, rotating halfway through baking, until a toothpick inserted comes out with a few crumbs. Allow to cool in pan for 10 minutes before removing muffins to wire rack.
Muffins are best enjoyed the day they are prepared. Store at room temperature covered with foil for up to 3 days.
Tip: If muffin tops are browning too quickly, cover loosely with foil.