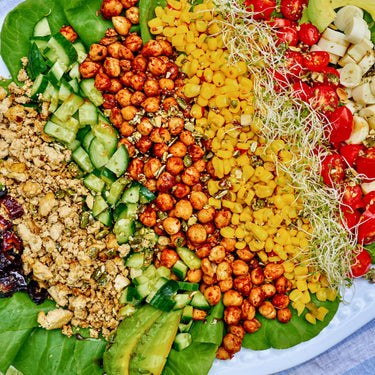 Crumbled Tofu and Smoky Chickpea Chopped Salad with Date Vinaigrette
This recipe was submitted to our Test Kitchen by Angela from angelas_plantbasedkitchen and we think this knocks it out of the park for a healthy Labor Day spread. This is protein packed and leans into fresh late summer produce like cucumbers, tomatoes and corn. The date vinaigrette is just the right balance of sweet and salty to pull it all together!
Ingredients
For Smoky Chickpeas:
1 15-oz can chickpeas, drained and rinsed
¼ cup coconut aminos
1 Tbsp white miso paste
½ Tbsp liquid smoke
1 tsp smoked paprika
For Crumbled Tofu:
1 block extra firm tofu, crumbled
2 Tbsp Just Date Date Syrup
2 Tbsp soy sauce or tamari
For Salad:
1 head butter lettuce, disassembled into individual leaves
1 large tomato or 10 cherry tomatoes, seeded and diced
1 cup canned corn, drained and rinsed well
½ English cucumber, diced
1 large avocado, sliced
1 cup heart of palm, diced
1 handful of sprouts
2 Tbsp sunflower seeds or seed brittle
5 large Medjool dates, chopped
For Date Vinaigrette:
2 Tbsp Just Date Date Syrup
2 Tbsp olive oil
2 Tbsp coconut aminos
2 Tbsp Mirin
Preheat the oven broiler to high.
Smoky Chickpeas:
In a bowl, combine coconut aminos, white miso paste, liquid smoke, and smoked paprika. Stir well to combine. Add chickpeas and toss to coat.
Crumbled Tofu:
In a separate bowl, combine crumbled tofu, Just Date Date Syrup, and soy sauce. Toss to combine.
Spread chickpeas and tofu separately on a baking sheet.
Place the baking sheet under the broiler for 10 minutes. Keep a close eye on them, tossing the chickpeas and tofu every 3-4 minutes. Remove from the oven and set aside to cool.
Salad Assembly:
Arrange the individual butter lettuce leaves on a serving platter or individual plates. Arrange the salad ingredients (tomato, corn, cucumber, avocado, heart of palm, chickpeas, tofu, sprouts, sunflower seeds, and chopped dates) in rows on top of the lettuce leaves.
Date Vinaigrette:
In a small bowl, whisk together Just Date Date Syrup, olive oil, coconut aminos, and Mirin to make the vinaigrette. Drizzle the Date Vinaigrette over the salad. Serve immediately