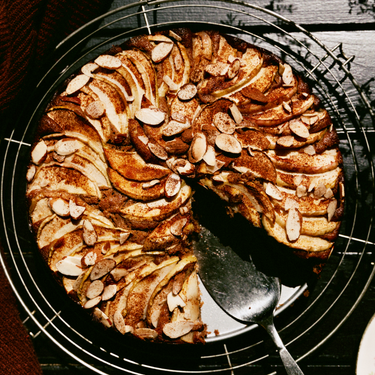 Date Eplekake (Norwegian Apple Cake)
The romance of baking seeps out of Marybeth Well's kitchen like an enchanting fairy dust. Don't believe us? Watch her videos. They are mesmerizing. During one of her recent kitchen forays, she conjured up this divine apple cake that we can't stop thinking about. 
"This Date Eplekake (Norwegian Apple Cake) is a wonderful way to slowly kiss summer goodbye and fall into Autumn. Here's the recipe for what I hope becomes a repeat snack cake in your house (it is in mine)."
Ingredients
Cake Ingredients
150g all purpose flour (about 1 c and a scant 1/4)
1/2 tsp. baking powder
150g room temp unsalted butter (about 2/3c)
160g date sugar (abt. 1 1/4 c.)
4 eggs, room temp
1/2 c. milk
2-3 large apples (preferably honeycrisp or granny smith)
Topping Ingredients
1-2 tbsp date sugar
1/4 c. sliced almonds (optional)
1 tbsp. cinnamon
5-6 small dabs of salted butter
Preheat oven to 325 F and grease an 8" springform pan. In a bowl, whisk together flour and baking powder.
In a kitchen mixer with the paddle attachment, blend butter and date sugar until it's light and fluffy. Add eggs one at a time, then add flour mixture and blend without overmixing. Slowly add milk while blending, until well combined and smooth.
Pour into pan, then top with sliced apple and other topping items. Bake 55 minutes, until golden brown and a toothpick or butterknife comes out clean.
Enjoy ✨