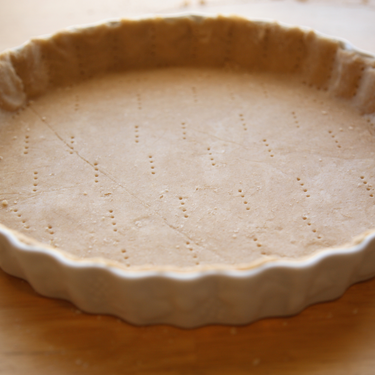 Date Sugar Pie Crust // Refined Sugar Free
Bebe Carminito made this pie crust that can be used in all your holiday pies, summer pies, fall pies, birthday pies, no-reason pies... I think we can all agree: it's always a good time for pie! This crust is buttery and lightly sweetened with date sugar so it's refined sugar free and extra tasty.
Ingredients
7 tablespoons (98 g) cold unsalted butter, preferably European-style
1 cup (130 g) all-purpose flour plus extra for the board
3 tablespoons (30 g) whole wheat pastry flour
2 teaspoons Just Date Sugar
1/8 teaspoon kosher salt, preferably, Diamond Crystal
4 to 5 tablespoons ice water


Cube the butter into 1/4 inch cubes and place it back in the refrigerator on a small plate or bowl while you measure all of the other ingredients. In the bowl of a food processor, pulse the flours, Just Date Sugar and salt five times. Add and scatter the cold butter and pulse twenty five to thirty times until it resembles pea sized amounts. Add the ice water one tablespoon at a time through the feed tube pulsing until the dough comes together. You might not need all of the water so monitor it closely as to not over moisten the dough. Turn the dough out onto a lightly floured work surface or a pastry board and pull all of the bits together forming it into a disc. Wrap it tightly with plastic wrap and store in the refrigerator overnight. The next day, use according to your recipe.