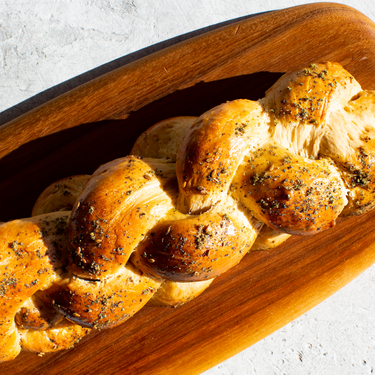 Ingredients
Proofing
2 1/4 tsp active dry yeast
4 tbsp Just Date Syrup
1 cup lukewarm water (100-108F)
Dough
1 cup sifted flour
2 eggs
1/8 cup Just Date Syrup
1 1/2 tsp kosher salt
1/2 cup olive oil
2 1/2 cups sifted flour + additional for rolling braids and if dough is too sticky
Egg Wash
1 egg yolk + 1 tsp water, whisked
Topping
Proof the yeast. Pour 4 tbsp JDS over yeast and then add warm water by mixing the ingredients together and letting sit in a warm place for 5-7 minutes until it blooms. (You'll know if it blooms – it'll be nice and foamy!)
Add the following ingredients to the yeast in this order, and mix well after each: 1 cup sifted flour, 2 eggs, 1/8 cup date syrup
Add, and mix well: 1 1/2 tsp kosher salt, 1/2 cup olive oil
Add 2 1/2 cups of flour in 1/2 cup increments, mixing well with a wooden spoon. When it starts to come together, start kneading with your hands. You want the dough not to be sticky, add just enough flour for that to happen but don't let it become too dry.
Lightly oil a large bowl and place the ball of dough inside. Let rise for two hours.
Divide in half. Use half for challah and half for cinnamon rolls (or make double challah OR double cinnamon rolls – link to cinnamon rolls).
For the Challah:
Roll into six equal ropes and then braid. Let the braided loaf proof for 20 minutes, brush with egg wash and sprinkle with Za'atar. Then bake at 325 for 40 minutes.