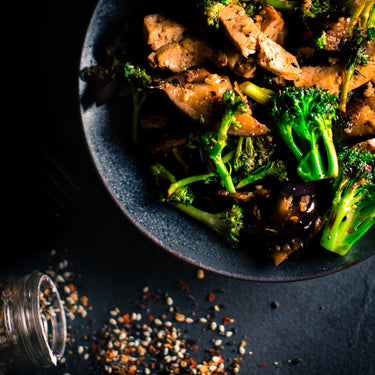 Eggplant + Broccoli Next Level Stir-Fry
It's so exciting giving a simple stir-fry added layers and depth - it happens easily when you have the right ingredients! This easy stir-fry uses a classic mix of Asian flavors: rice wine vinegar, soy sauce, ginger, and fish sauce. Then, we threw in a curveball: Just Date Syrup. We've been psyched to see our beloved JDS work well in so many different types of cuisines, and this is one we made again the next evening! Requirements are a cast-iron skillet and high quality chili flake or Asian chili blend - we used Oaktown Spice Shop's amazing shichimi togarishi. The cast-iron skillet is essential to get that char and gorgeous texture on the eggplant.
Ingredients
4 tbsp rice wine vinegar




2 tbsp soy sauce




1 tbsp fish sauce




2 tbsp just date syrup




1 1/2 tbsp shichimi togarishi (or other asian chili spice blend. you can also use white/black sesame seeds + aleppo chile flake)




1/4 cup + 1/4 cup + 1/4 cup sesame oil




1 eggplant, sliced in half, and cut into thin diagonal half moons. Then, cut the half moons in half to make a triangular shape.




Long thin slices of tofu, 1 package. Dry tofu well by blotting.




1 broccoli, cut into very small florets
Toss eggplant and 1/4 cup sesame oil in one mixing bowl, and tofu with 1/4 cup sesame oil in another. Let marinate while you prep broccoli and make sauce. Make sauce by whisking all wet ingredients together. Set spice blend aside.

Get cast-iron skillet hot, and lay eggplant slices down in a circular pattern. Layer eggplant slices on top. Let eggplant char on one side - about 2 minutes on the skillet.

Move eggplant around so now different slices are on the bottom. Let char again for 2 minutes. Add a touch more sesame oil if its seeming dry.




Remove eggplant and set aside - you will add this back to the skillet.




Add tofu to pan, in one layer if you can. Char the tofu for 3-4 minutes on one side. Stir tofu and turn heat to medium, char for another 3-4 minutes. (I know this seems like a lot of work when you could just toss it all in together, but I promise that it makes a difference! )




Add small broccoli florets and eggplant slices, stir all together.




Add 1/2 the sauce, stir and cook for another 4 minutes, until broccoli is firm but tender and eggplant is soft and succulent. Taste - the amount of sauce will vary depending on the size of your eggplant and broccoli heads. Add a little more if you think it needs it! Otherwise, sprinkle generously with shichimi togarishi and serve over rice.