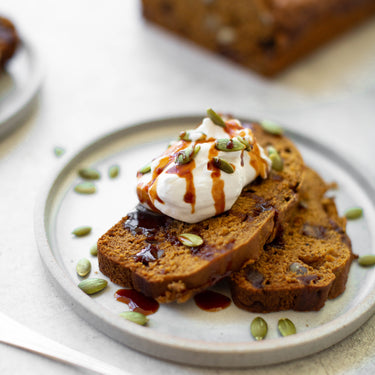 Fall Pumpkin Bread
The 'pumpkin spice' trend is showing no signs of slowing down, so we thought we'd jump on the bandwagon with a refined sugar-free version. As always, this date syrupified version turned out so much better than the original, adding a depth of flavor from medjool dates both through the syrup and through tiny chunks of medjools. This bread is perfect as breakfast, dessert, or just a holiday snack. We love it topped with thick coconut yogurt, toasted pumpkin seeds, and an extra drizzle of Just Date Syrup (of course).
Ingredients
1/3 cup + 2 tbsp olive oil
1 cup canned pumpkin puree
1/2 cup Just Date Syrup
2 eggs
1/4 cup milk
1 3/4 cup white whole wheat or AP flour
1 tsp baking soda
1 tsp vanilla extract
1 tsp ground cinnamon
1/2 tsp ground nutmeg
1/4 tsp ground cardamom
1/2 tsp ground ginger
1/2 tsp kosher salt
6 finely chopped medjool dates
1/2 cup nuts of choice, chopped ( we used walnuts )
Preheat oven to 325. Butter loaf pan.
Mix dry and wet ingredients separately, except dates and walnuts. Add mixed wet ingredients to dry ingredients and stir well. Fold in dates and walnuts.
Bake for 50 minutes until cake tester comes out clean.
Top with coconut yogurt and a drizzle of Just Date Syrup. Enjoy!