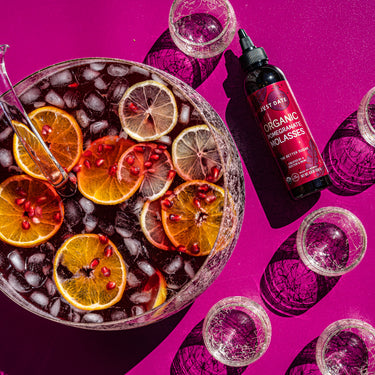 Festive Blood Orange Pomegranate Sangria
At Just Date, Sangria is a must during the holidays. It's a fun way to make a batched cocktail many will enjoy that is so customizable and lends itself to beautiful holiday-ish garnishes. We love this winter-time take on Sangria that features seasonal blood oranges, pomegranates, and rosemary. We like it with club soda to tone the flavor down into a sippable sweet, tart and aromatic cocktail.
Ingredients
10 ounces freshly juiced blood orange juice, about 10 blood oranges
2 bottles dry red wine
4 sprigs rosemary
½ cup brandy (optional)
⅓ cup Just Pomegranate Syrup
2 blood oranges cut into wedges
Optional club soda to cut it to taste
Combine all ingredients in a large pitcher or punch bowl. Chill for at least two hours and serve over ice.