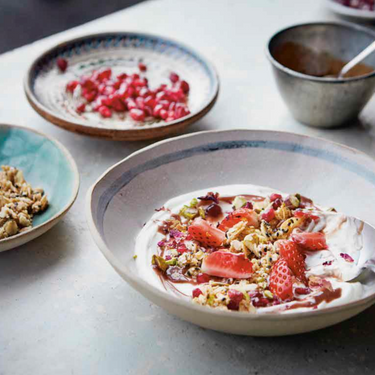 Fruit and yogurt with sesame oat crumble and tahini-date syrup
For those who like fruit and yogurt in the morning, this Palestinian recipe by Sami Tamimi, author of Falastin and James Beard award winning chef behind Ottolenghi - is a great choice. The crumble is mildly sweet, allowing the tahini-just date syrup to stand out. Double or triple the recipe for the crumble as a breakfast or snack. It keeps well in a sealed container for up to two weeks.
Ingredients
Sesame oat crumble
⅓ cup/50g white sesame seeds
3 tbsp black sesame seeds (or just increase total of white sesame seeds to ½ cup/75g)
1⅔ cups/150g rolled oats
½ cup/50g sliced almonds
¼ tsp flaky sea salt
1½ tsp cardamom pods (about 14), outer shells crushed, removed, and discarded; seeds crushed in a mortar and
pestle (or ¼ tsp ground cardamom)
3 tbsp smooth unsweetened peanut butter
5 tbsp/100g Just Date Syrup
1 egg white
1 tbsp rose water
2 tbsp olive oil

Tahini-date syrup
3 tbsp Just date syrup
3 tbsp tahini
2 tsp orange blossom water
3 tbsp water
2½ cups/600g Greek yogurt
⅔ cup/80g strawberries, quartered
¼ cup/40g pomegranate seeds (from ½ pomegranate)
½ cup/60g pistachios, roughly chopped
2 tsp dried rose petals (optional)
Preheat the oven to 350°F. Line a baking sheet with parchment paper.
To make the crumble, stir together all the sesame seeds, the oats, almonds, salt, and cardamom in a large mixing
bowl.
Put the peanut butter, Just Date syrup, egg white, rose water, and oil into a separate bowl and whisk until well combined.
Add the wet mixture to the dry ingredients and, using a rubber spatula or your hands, mix until everything is well
coated.
Spread out on the prepared baking sheet and bake for 18–20 minutes, stirring once or twice during baking,
until golden brown.
Remove from the oven and set aside to cool completely, then transfer to a food processor. Blitz
as far as you want to take it: for just a few seconds if you want to keep the crumble rough and granola-like, or for
longer if you prefer the texture sandy.
To make the tahini-date syrup, place all the ingredients in a bowl. Whisk well to combine and then set aside.
Divide the yogurt among four bowls and drizzle on the tahini-date syrup. Follow this with a generous helping of the
crumble—and top with the fruit, pistachios, and rose petals (if using) and serve.
Sami Tamimi author of Falastin, and James Beard award winning Palestinian chef