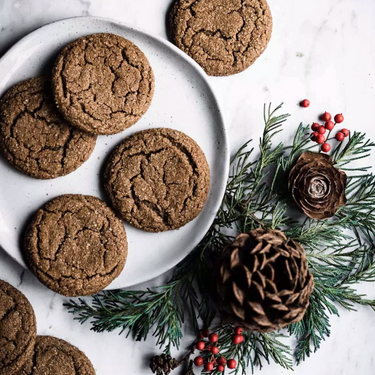 Ginger Spiced Date Syrup Cookies
{post written by Bella Karragianidis, Ful-Filled. See the original post @ful-filled}
To say I am excited to share this recipe with you guys would be a huge understatement! I developed this recipe for my dear friend Sylvie who is the owner and creator of Just Date Syrup. She was an attendee at my first San Francisco workshop last year and she went on to create her amazing company Just Date Syrup, which I have had the great privilege of styling & shooting photography for since its inception. Sylvie asked me to create a stop-motion recipe video of a holiday cookie made with Just Date Syrup and these ginger spiced date syrup cookies are the result, and let me tell you guys, they are absolute perfection!
I literally tested this recipe four times to make sure that every detail was perfect! We wanted the recipe to be vegan and gluten-free, while also using simple and accessible ingredients. From how long to chill the dough to exactly how long to bake the cookies, test after test, I can finally share the recipe with you all because I am able to say this recipe is tried and true (and did I mention how good they taste!?!?!) The amount of spice is just right, the texture is soft and slightly chewy with a touch of crunch from the turbinado sugar coating and the fact that they are vegan and gluten-free means everyone should be able to enjoy them!
These ginger spiced date syrup cookies are also super easy to make – no mixer is required because the ingredients are simply mixed together by hand! There are just three very important details that absolutely must be followed if you want your cookies to turn out perfectly:
 The dough

 

MUST be chilled

 

for at least 12 hours (longer is fine)
 They baked perfectly in

 

9 minutes

 

at 350°F (8 minutes was not enough, 10 minutes was too long)
 For optimal eating experience, the cookies should be

 

completely cool
Trust me when I tell you that these three details are the key to your ginger spiced date syrup cookies turning out perfectly. The rich flavor and gentle sweetness of Just Date Syrup (which you can find at Whole Foods Markets across the US) make for a wonderful holiday cookie that I love to enjoy with a hot cup of coffee with cream ;) If you make these cookies, I would absolutely love to hear what you think!
Ingredients
1 1/2 cups oat flour, sifted
1 tsp baking soda
1 tsp ground ginger
1 tsp ground cinnamon
1/4 tsp ground allspice
1/2 cup vegan butter, melted (if your butter is unsalted, add 1/2 tsp salt)
1/3 cup Organic Date Sugar
1/3 cup Just Date Syrup
1 egg or vegan egg substitute (I used Ener-G, but a flax egg would work as well)
1 tsp vanilla extract
1/4 cup Organic Date Sugar for coating cookies
Sift oat flour into a medium bowl. Add in the spices and baking soda and whisk until well combined.

Melt the vegan butter in a medium bowl. To the melted butter, add the date sugar, date syrup, egg and vanilla extract, whisk until well combined.

Add the wet ingredients to the dry ingredients, using a spatula to stir & fold the cookie dough until well combined.

Cover and refrigerate the cookie dough for at least 12 hours before baking.

Once dough is thoroughly chilled, pre-heat oven to 350°F and line a baking sheet with parchment paper.
Scoop the cookies into 2 tbsp portions (about the size of a golf ball), gently roll dough into a ball and then roll the ball in turbinado sugar to lightly coat the outside of the dough. Continue until you have 6 balls of cookie dough on your baking sheet.
Bake the cookies for 9 minutes in the center of the oven. Once done baking, allow the cookies to cool on the cookie sheet at room temperature until they are completely cool (this should take about 20 minutes).

Cookies can be stored at room temperature for up to 5 days (if they last that long ;)