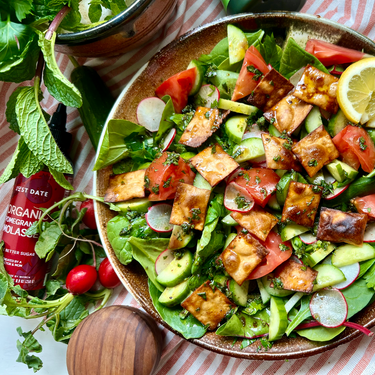 Gluten-Free Fattoush Salad
Fresh, crisp, and packed with flavor - our Fattoush salad is the perfect addition to any meal! Featuring juicy tomatoes, crunchy cucumbers, zesty radishes, fresh mint and mixed baby greens, this salad is sure to satisfy your taste buds. Topped off with a tangy pomegranate and sumac dressing and crispy cassava chips instead of traditional pita, it's a delicious twist on a classic dish. Give it a try and experience the refreshing flavors of Fattoush for yourself!
Ingredients
Salad
Fresh baby greens of your choice
chopped tomatoes
sliced cucumbers
sliced radishes
chopped fresh mint
chopped fresh flat-leafed parsley
gluten-free cassava tortillas
neutral oil like avocado or sunflower
Dressing
Juice of 1/2 lemon
⅓ cup extra virgin olive oil
1 to 2 tablespoons Just Date Pomegranate Syrup
1 tsp sumac
¼ tsp ground cinnamon
scant ¼ tsp ground allspice
1 heaping tablespoon fresh mint
Cracked black pepper
Flaky sea salt
Arrange salad and veggies in a bowl. Heat neutral oil in a skillet on medium. Cut the gluten-free cassava tortillas into squares. When the oil is shimmering, place the tortilla squares in the oil and flip after 10 seconds with a fork. Wait 5 more seconds and pull out onto a paper towel. These fry very quickly! Set aside to cool.
Mix the dressing ingredients together and pour over the salad. Top with the cassava chips and enjoy!