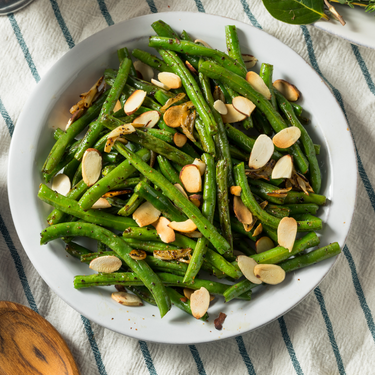 Green Beans 2 Ways - Almondine & Sweet and Sour
We love green beans as a side dish so much, we couldn't decide on Green Beans Almondine or Sweet and Sour Green Beans. It was a hot debate. Eventually, we felt it best to just go ahead and give you both recipes that we love. In terms of recipes, more is more.
Ingredients
Green Beans Almondine

1 lb (16 oz) French green beans haricot verts, trimmed
2 tablespoons unsalted butter
¼ heaping cup raw sliced almonds
2 medium shallots finely diced
2 medium garlic cloves finely minced
zest of one small lemon
1 tsp freshly squeezed lemon juice
2 tsp Just Pomegranate Syrup
kosher salt to taste
freshly ground black pepper to taste



Sweet and Sour Green Beans
1 pound green beans
2 tbsp extra-virgin olive oil
2 medium shallots (minced)
2 tbsp cider vinegar
3 tsp Just Date Syrup
Sea salt
Freshly ground pepper
Almondine directions

Bring a generously salted pot of water to a boil. The use of kosher salt not only ensures thorough seasoning of the green beans but also aids in preserving their vibrant green color post-cooking.
Blanch the green beans for 4 to 5 minutes, stirring occasionally, until achieving a crisp-tender texture that's slightly squeaky between your teeth. It's crucial to slightly undercook the green beans, as they will continue to cook once transferred directly to the skillet.
Simultaneously, in a large skillet over medium-low heat, melt the butter until gently bubbling. Introduce sliced almonds and sauté, stirring frequently, for 2 to 3 minutes, or until they begin to exhibit a golden brown tint. Lower the heat to a simmer and incorporate chopped shallots and garlic, sautéing for an additional 1 to 2 minutes until fragrant and lightly caramelized.
Using a large slotted spoon, tongs, or a kitchen spider, move the blanched green beans directly from the boiling water to the skillet. Saute briefly, delicately tossing the green beans with the almond mixture until thoroughly combined and the beans reach a tender consistency. Sprinkle in lemon zest and lemon juice, toss once more, and season to taste with salt and freshly ground pepper. Serve immediately for a delightful culinary experience.


Sweet & Sour Directions


Arrange the green beans in a steamer basket, positioned over a saucepan filled with boiling water. Steam the beans for approximately 5 minutes until they become vibrant green and reach a crisp-tender consistency.
In a medium-sized skillet, warm the oil. Add the shallot and cook on high heat, stirring consistently until it softens, approximately 2 minutes. Introduce the vinegar and syrup and immediately take the skillet off the heat to avoid scorching. Incorporate the steamed beans. Season the mixture with salt and pepper, toss thoroughly, and serve.