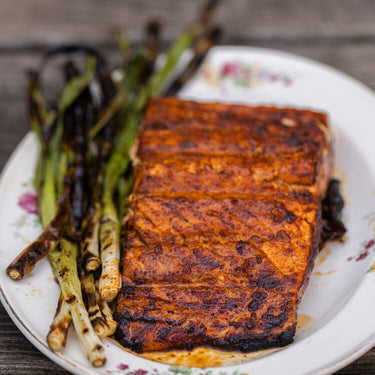 Grilled Harissa Salmon
A collab recipe using NY Shuk harissa + preserved lemon paste and Just Date Syrup!
Created by Leetal at NY Shuk, this recipe is full of umami from preserved lemon paste and soy sauce, sweetness from Just Date Syrup, and fire from harissa to bring everything together in the most perfect way. 
Ingredients
2lb salmon fillet, skin on
1/4 cup NY Shuk Signature Harissa
1.5 tbsp NY Shuk Preserved Lemon Paste
2 tbsp Just Date Syrup
1.5 tbsp soy sauce
Mix all the sauce ingredients together in a bowl. Add in the salmon to marinate. Marinate the fish up to 12 hours in advance.
On a very hot grill, place the fish skin side down. Cook approximately 5 minutes on each side, adjusting the time for the thickness of your fish. (A general rule is 3-4 minutes per inch of thickness)
You can also broil the fish in the oven for the same great result, ideally 10-15 minutes depending on the thickness of the fish.
Leetal Arazi, NY Shuk
Photos by Maria Midoes