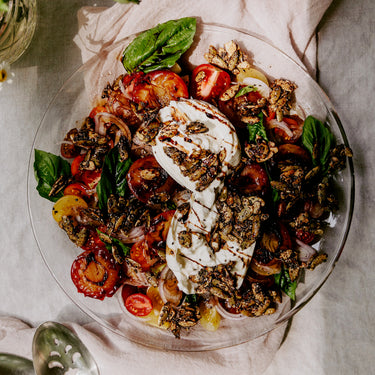 Grilled Stone Fruit and Heirloom Tomato Summer Salad
This delicious salad was made for us by Marybeth Wells of Living Wells. She used Cherry Plums but you can certainly use any stone fruit, like nectarines or peaches.
"This Cherry Plum and Heirloom Tomato Summer Salad tastes like a smattering of summer in each bite.

Not the kind of summer that's sticky, uncomfortable, and leaves you feeling ready for fall. The good kind of summer that's full to the brim with warm sunshine on your face, bold flavors, and possibility.

Cherry Plum and Heirloom Tomato Summer Salad with Pomegranite molasses
The combination of ripe heirloom tomatoes, firm cherry plums, crispy nuts and seeds, tangy pomegranate molasses, creamy burrata cheese, and more make this a uniquely delicious salad." Read more at Livingwells.com
Ingredients
1 1/2 cups heirloom cherry or campari tomatoes, halved or quartered
5 cherry plums, halved and pitted
1 shallot, thinly sliced
flaky sea salt
freshly ground black pepper, to taste
high-quality finishing olive oil
1/2 lemon, juiced
1 ball of burrata cheese, near room temp
1/3 cup nuts and seeds of choice (I like pepitas and sunflower seeds), toasted and salted
Just Pomegranate Syrup, to taste
Slice up tomatoes and shallots, then arrange in a single layer on a platter with fresh basil
Top with S+P to taste, lemon juice, and olive oil.
Sear or grill plums on medium heat, until caramelized. Gently arrange onto a platter.
Top with torn burrata, and your nuts & seeds. Drizzle generously with Just Pomegranate Syrup
Enjoy!