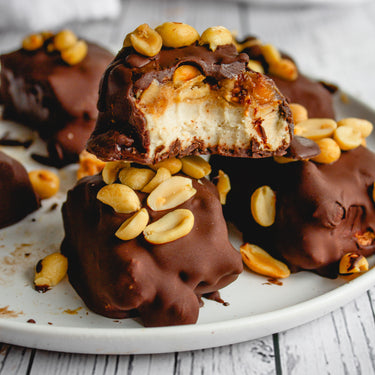 Healthier Baby Ruth Bars
Refined sugar free candy without the weird aftertaste? Sign me up! These are as delicious as they are cute and bite sized. Perfect for a get together or kids party where you don't want everyone to experience a mass sugar crash all at the same time. You know you've been there. These are made from Just Date by Abby Krueger from @thebalancedwhisk
Ingredients
Base layer:
1.5 c almond flour
1/2 c Vanilla Protein Powder
1/3 c Coconut Cream
Caramel layer:
1 c peanut butter
1/3 c maple syrup or Just Date Syrup
1 c Just Date Dark Chocolate Chips, melted
Peanuts, halves
Sea salt
base layer: mix all ingredients together until a thick almost dough like consistency forms.
spread the mixture to an 8x5 loaf pan lined with parchment paper, smooth it out.
caramel filling: mix the peanut butter and maple syrup until smooth
spread into the loaf pan on top of the base layer and smooth it out, top with peanuts and sea salt.
place in the freezer for 2-4 hours
once layers are firm, cut into 12 pieces total
dip each piece in melted chocolate chips, sprinkle in additional peanuts if desired, then place back on a lined baking tray and chill until firm.