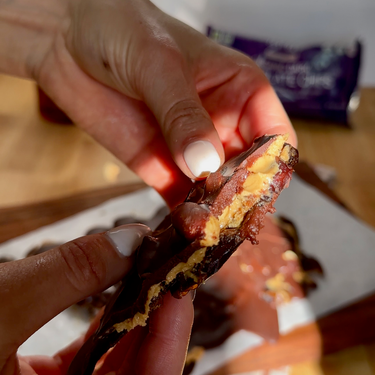 Healthier Snickers Bark - 5 Ingredients
Mallory from @munchiesbymallory make this delicious healthy snickers bark with only 5 ingredients. Made with date-sweetened chocolate chips, it strikes a delightful balance between the rich dark chocolate flavor and the natural sweetness of dates, creating a satisfying and guilt-free snack that's sure to please your palate. This bark offers a delightful blend of nutty peanuts and smooth chocolate, making it a tasty, and healthy treat packed with good for your ingredients.
Ingredients
10-15 whole dates
½ cup nut butter of choice
½ cup peanuts
½ cup Just Date Dark Chocolate Chips
1 tsp coconut oil
Remove the pits for 10-15 dates and press flat into parchment paper. Top with nut butter. Then sprinkle on peanuts. Melt Just Date dark chocolate chips with coconut oil. Spread the Just Date dark chocolate on top. Freeze for at least 20 minutes. Break apart and enjoy!!