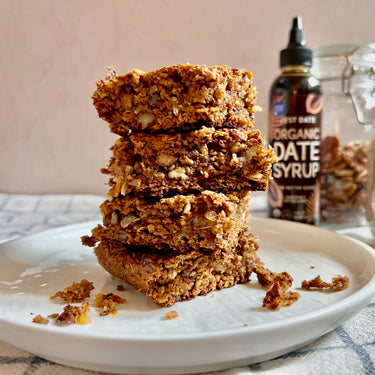 Healthy Banana Nut Breakfast Bars
A new season begs a refreshed routine. We've been making these breakfast bars and having them with coconut yogurt, berries, cinnamon and a drizzle of Just Date Syrup. It's decadent enough to feel like you're getting away with something but objectively healthy and balanced enough for a breakfast. The oats will keep you going all morning and the date sweetener promises you won't crash. Chia pudding move over - we've got a new breakfast obsession now.
Ingredients
2 cups quick oats
1 tsp cinnamon
¼ tsp ground clove
½ tsp baking powder
½ tsp baking soda
½ tsp salt
1 cup mashed bananas
½ cup raw almond butter or raw peanut butter
¼ cup Just Date Syrup
¼ cup Just Date Sugar
1 tsp vanilla
½ cup chopped pecans
¼ cup shredded coconut (can replace with seeds or other nuts of your choice)
¼ cup dried fruit, chopped
Preheat oven to 350. Mash the bananas in a mixing bowl and add the nut butter, date syrup, date sugar, and vanilla. In a separate bowl, mix the oats, baking soda, baking powder, salt, and spices. Add the dry mixture to the wet mixture. Fold in the nuts, coconut, and dried fruit. Spread the mixture in a well-greased 8" or 9" square baking pan. Pop it in the oven for 35 minutes. These keep well for several days are delicious with coconut yogurt, berries, cinnamon, and a drizzle of Just Date Syrup!