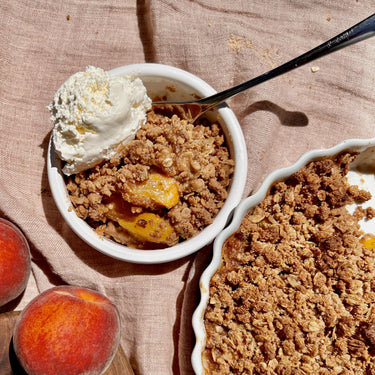 Healthy Peach Crisp
Let nostalgia take the reins with this delicious peach crisp recipe. Back in the day, when peaches would ripen, our doorstep would be graced with baskets full of them from friends. And what's the best way to make use of an abundance of peaches? Whip up an easy and delightful dessert, of course! The beauty of this recipe is that you can also use other stone fruits like nectarines and cherries, or mix them all together for a scrumptious twist.
But here's the best part: while this peach crisp tastes indulgent and satisfying, it's actually made with wholesome ingredients that are good for you. So, it's a win-win situation—a treat that brings back fond memories and nourishes your body at the same time.
Ingredients
10 ripe peaches, peeled + sliced
1 tsp vanilla
1 Tbsp lemon juice
3 Tbsp Just Date Organic Sugar
1/4 tsp Oaktown Spice Shop Nutmeg
Crisp Topping
1 cup rolled oats
¾ cup almond flour
1/3 cup Just Date Organic Sugar
1/4 tsp salt
1/4 tsp Oaktown Spice Shop Cinnamon
1/3 cup Ground Up Nut Butter
1/2 cup melted coconut oil
1 tsp vanilla
Preheat oven to 350F and grease your Great Jones baking dish (Use an 8x8, 9x9 or a pie pan)
Peel your peaches. In a bowl, mix together sliced peaches, vanilla, lemon, date sugar, and nutmeg until completely coated.
While peaches sit, prepare crumble topping by mixing together oats, almond flour, date sugar, salt and cinnamon.
Add in almond butter, coconut oil, and vanilla, and using a fork or hand, mix until it's well incorporated.
Pour peaches into dish and sprinkle crumble topping over top. Pat down. Bake for 35-40 minutes or until crust is golden brown. Let rest at least 15 minutes before serving.
Serve with Green Girl Bake Shop superfood gelato, and store the remainder in the fridge.