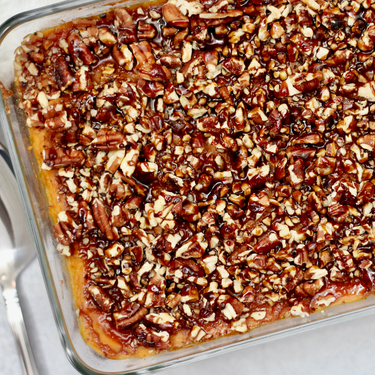 Healthy Sweet Potato Casserole
We enlisted one of our fave home cooks, Kim Hart, to reimagine the sweet potato casserole and did she deliver! It's simplicity is perfect for a busy day of cooking many dishes for a big gathering and it won't disappoint. 

"Looking for a healthier way to make a holiday classic? Sweet potato casserole is a staple at most holiday tables but can lose a lot of the nutritional value with lots of added sugar and butter. With a few simple ingredients and natural sweeteners from Just Date you don't have to feel guilty indulging in this yummy dish."
Ingredients
3 large sweet potatoes
1 cup almond milk or cashew milk
3 tbsp Just Date Sugar
1 cup pecans
1/4 cup Just Date Syrup
Preheat oven to 375 and wrap sweet potatoes in foil. Place in a baking dish. Roast in the oven for 45 - 60 minutes. They will be done when the potatoes are fork tender.
Once potatoes are done, remove from oven and remove the skin. Place in a large mixing bowl along with 1 cup of almond milk, sugar and mix until smooth. Next place the mashed sweet potatoes in a baking dish and top with pecans and Just Date syrup.
Bake in oven for another 10-15 minutes or until pecans are toasted and syrup is slightly bubbling.