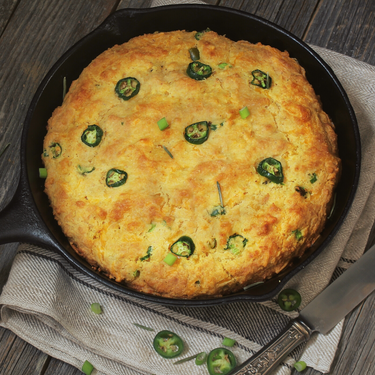 Ingredients
1 tablespoon

flax meal +

2 1/2 tablespoons

water

1 cup

unsweetened non-dairy milk +

1 teaspoon

apple cider vinegar

1 1/2 cups

fine cornmeal

1/2 cup

oat flour

1 1/2 tablespoons

baking powder

1 teaspoon

salt

1/4 teaspoon

baking soda

1/4 cup

unsweetened applesauce

2 tablespoons

Just Date Syrup

1 tablespoon

coconut oil, avocado oil or grapeseed oil

1 cup

zucchini, grated and packed

½ cup

corn

2

jalapeños, seeds removed and chopped, plus slices for topping
Preheat oven to 400F. Lightly grease an 8×8-inch pan.
In a small bowl, combine flax meal and water to make a flax egg; place in the fridge. In another small bowl, stir together milk and vinegar. Let the mixtures sit for 10 minutes.
In a large bowl, place cornmeal, oat flour, baking powder, baking soda and salt; stir.
In the bowl with the milk mixture, add the flax egg, applesauce, Just Date Syrup and oil. Whisk to combine.
Slowly pour wet ingredients into the dry ingredients. Stir until just combined. Fold in zucchini, corn and jalapeno until the vegetables are evenly incorporated throughout the batter.
Pour the batter into the greased pan. Bake for 27-32 minutes, or until a toothpick comes out clean. Remove from the oven; let the bread cool in the pan for a few minutes before cutting.