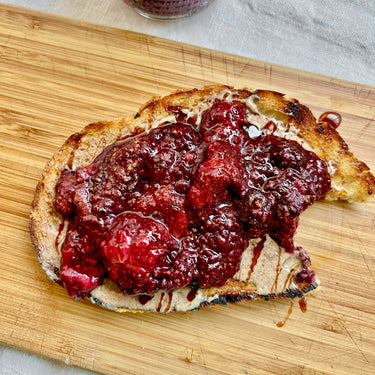 Jammy Berries - Chia Berry Compote
In the wintertime, flavorful delicious berries are hard to come by. We've solved that problem here by making an organic vegan berry compote. Using frozen fruit which is packed at peak ripeness, some chia for texture and protein, and a little date syrup you get a delicious berry explosion to put on oatmeal, yogurt, toast, cakes, tarts, on top of cheese and crackers - you name it. Try this easy recipe and throw the remaining in a jar in the fridge for up to 3 or 4 days. Honestly, it may not last that long.
Dump 3 cups of frozen berries in a sauce pan over medium heat and stir occasionally until the berries are beginning to break down. Add the chia seeds and date sugar and cook until desired softness. Serve immediately on toast with almond butter or oatmeal. Store remaining in a jar in the fridge for up to 4 days.