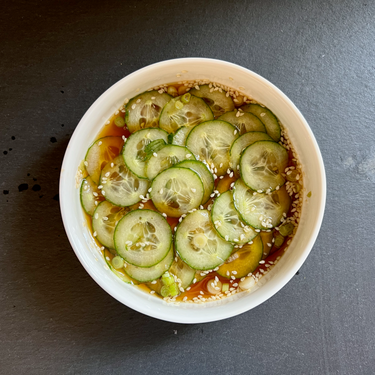 Japanese-Inspired Quick Pickled Cucumber
This tasty treat is a staple in my household. We use quick pickles (also called refrigerator pickles) constantly and enjoy this one as a topping for Donburi, grain bowls, eggs, or fried tofu. The cucumber is delicate and crunchy and takes on the floral sweet acidity of the brine beautifully. Previously, I used white granulated sugar for these. Not only does the date syrup stands in perfectly, it even adds a restaurant-quality depth of flavor. I love to throw these together before I start cooking the rest of the meal so they have some time to marinate. There's no need to refrigerate if you are using them within a couple of hours.
Ingredients
1 small cucumber thinly sliced
3 scallion whites thinly chopped
2 tbsp rice vinegar
1 tbsp mirin
1/2 tsp sesame seeds
1 tbsp date syrup
Pinch of salt
Add all ingredients together, except for cucumbers in a bowl and whisk. Add the cucumbers and flip gently to coat. Let the cucumber sit in the brine for at least 15 minutes and use within 24 hours for optimal crunch. Usually they don't last that long in our kitchen anyhow!