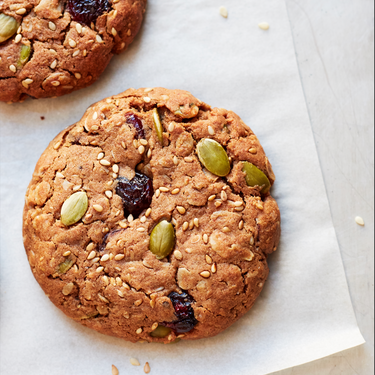 Jesse Szewczyk's Oatmeal Pantry Cookies
A note from cookie king Jesse:
"A few weeks ago my friends over at @justdatesyrup challenged me to make one of my cookie recipes using only date sugar or date syrup. Being in an oatmeal cookie kick, I decided to adapt my overnight oat cookie recipe! Using the date sugar allowed me to forgo the extra step of chilling the dough, making it quicker to throw together while still remaining super moist! (It also gave them a nice caramel-y flavor!) I turned the original recipe into a quicker, mix-and-match pantry oatmeal cookie that allows you to throw in whatever dried nuts, fruits, and seeds you have on hand. I used dried cherries, pumpkin seeds, and sesame seeds in mine — but you can get as crazy as you want! So go grab the recipe on their site and bake up your own version!"
Make sure to check out his best-selling cookbook Cookies: The New Classics. 
Ingredients
1 cup (128 grams) all-purpose flour
2 teaspoons ground cinnamon
1 teaspoon baking soda
1 teaspoon kosher salt
1 cup (2 sticks/226 grams) unsalted butter, softened
2 cups (280 grams) date sugar
2 large eggs
3 tablespoons (45 ml) date syrup
1 tablespoon vanilla extract
1½ cups (135 grams) old-fashioned rolled oats
1½ cups (about 200 grams) your choice of nuts, seeds, or unsweetened dried fruit (see Note)
Note: Just about any seed, nut, or dried fruit can be used in this dough. Just make sure to cut any larger items into small, ¼-inch pieces so they don't overwhelm the cookie. I like to use dried cherries, pumpkin seeds, and sesame seeds in mine — but any combination will work. Shredded coconut, peanuts, walnuts, and dried figs all make wonderful additions.
Preheat the oven to 350°F. Line 4 baking sheets (or as many as you have) with parchment paper or nonstick baking mats.

In a medium bowl, combine the flour, cinnamon, baking soda, and kosher salt.

In the bowl of a stand mixer fitted with the paddle attachment, combine the butter and date sugar. (Alternatively, use a hand mixer and a large mixing bowl.) Beat on medium speed until light and fluffy, 2 to 3 minutes. Turn the mixer off, scrape the sides, and add the eggs, date syrup, and vanilla. Mix on medium speed until thoroughly combined and fluffy, 2 minutes. With the mixer running on low speed, gradually add the flour mixture, beating until just combined. Turn the mixer off and stir in the oats and mix-ins of choice with a rubber spatula.

Using a large 2-inch cookie scoop (or ¼ measuring cup), portion out the dough and roll into large balls. Place 6 dough balls per cookie sheet. Flatten the dough balls slightly into ¾-inch thick pucks using your hands (not unlike a fat burger patty).

Bake the cookies (2 sheet trays at a time) until cracks start to form and the cookies no longer look wet, 11 to 13 minutes. Let cool completely on the baking sheets.