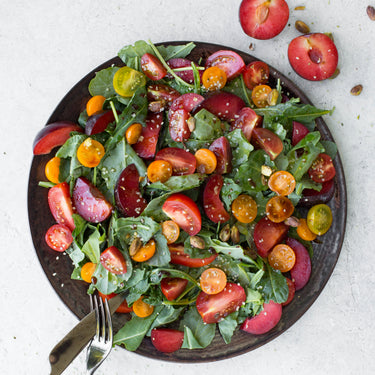 Juicy Plum & Tomato Salad with Pomegranate-Citrus Dressing
This salad is bursting with flavor when you use ripe summer plums and two types of tomatoes. Top it all off with a super easy pomegranate and orange dressing and it's everything you want for a bright summer lunch or evening BBQ side dish.
Ingredients
1 lb ripe plums (we like Santa Rosa plums)
1 lb ripe early girl tomatoes
1 pint ripe sungold cherry tomatoes
1 lb baby spinach
1 tbsp hemp seeds
The Dressing
3 tbsp olive oil
2 tbsp Just Pomegranate Syrup
1 tbsp fresh squeezed orange
salt and pepper to taste
Combine salad ingredients and lightly season with fine kosher salt, just a sprinkle. Whisk the dressing until emulsified with a pinch of salt and pepper. Add just enough dressing so the salad is lightly coated (this varies depending on the size of your plums and tomatoes), do not overdress or the spinach will wilt. Enjoy!