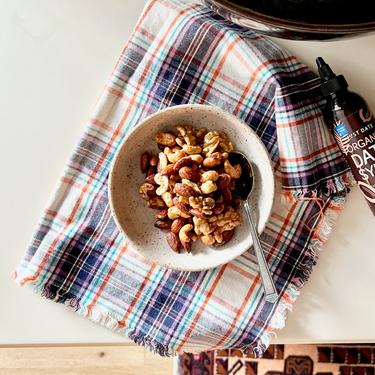 Just Date Spiced Nuts
This is a go-to recipe for everyone at Just Date. These spiced nuts have a little sweetness, a little kick, and a whole lot of umami. They can be whipped up just in time for guests on a cheese board or to have on top of a weeknight kale salad. It's impossibly easy; less than 10 min of prep and 10 min of baking! Mix and match whatever nuts you have on hand as long as you have 2 cups of nuts.
Ingredients
1/2 cup Almonds
1/2 cup Cashews
1/2 cup Walnuts
1/2 cup Hazelnuts
You can use any blend of nuts you'd like, pecans are also great
2 tablespoons olive oil
2 tablespoons date syrup
1 tablespoon Aleppo pepper
1/2 teaspoon Smoked paprika
1/2 teaspoon of Salt
Combine all ingredients together. Spread on a baking sheet lined with parchment and bake for 10-12 min at 400. Check once and give them a quick toss so the nuts are perfectly even. Take them out when they start to smell toasty!